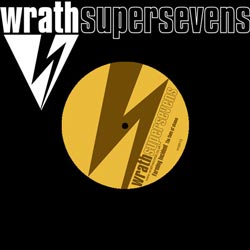 WRATH13
Supersevens #3 7'' Vinyl
A: Farming Incident - The flute of shame
AA: Mama Scuba - Sweet girl
Part of the Wrath Supersevens 7'' singles club.
Reviews:
review: www.leedsmusicscene.co.uk
Farming Incident - 'The Flute of Shame'
Collectors' item Farming Incident material without a pop hook to its name. Driving, insistent, nagging. Annoying even. But the very stuff of post-Kylie loss of innocence. When they have those retro-Wrath Nights in student clubs in Dortmund in 2020, this will be the show stopping, floor filling ecstatic moment. But that's partly because it's the romantically obscure cousin of the bigger boys and partly because it's pretty good.
Mama Scuba - 'Sweet Girl'
Industrial strength visceral wailing and howling with a big bad bass of doom all over. Sharp edges and a wisp of a tune with its back against the railings. Technical virtuosity and scary stuff. Get it back on and play it again. Splatteringly good.
Sam Saunders

----------------------------------------------------------------------------------------------------
review: I really love music
farming incident/mama scuba (wrath013)
farming incident - the flute of shame :
old school indie punk funk. lo-fi, scratchy guitars, over in less than 2 minutes. would sit on any fast product compilation (early days mekons/gang of four label). compelling and now that punk funk is tres chic if this lot can tighten up their sound they could easily fit well into the fashionistas desires.
mama scuba - sweet girl :
opens with a smattering of echoes, white noise .. bassterror. but then quickly clears and a groove is established. once the vocals come in from a distance the memory synapses are instantly into overdrive .. familiar .. too bloody familiar .. got it. kingmaker. this band have the same disregard for standard 4/4 beat and change the rhythm all over the shop and the vocals are in the same league as loz. really good stuff, just wonder if they can make a decent lp (something i never really got from the kings)
Mark E