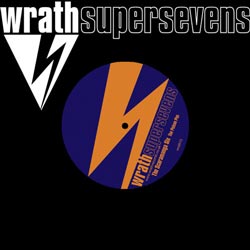 WRATH15
Supersevens #5 7'' Vinyl
A: The Scaramanga Six - The Poison Pen
AA: Beachbuggy - Nineteen
Part of the Wrath Supersevens 7'' singles club.
Reviews:
reviewed by: www.ireallylovemusic.com

scaramanga six - the poison pen :
having had the lp now on my playlist for last 6 months i can safely say that the scara six are one of my fave new noisy bands - the fact that this is my own personal secret and no-one else seems to know about this band is both a good thing and a bad thing (good - cos i am cool, bad cos the world need to know about his lot !) . the band have a way with a pop song that is just deliciously evil. the psycho deranged vocals, the classic era stranglers induced organs and bloodrush guitars just makes me burst out in a rash of grins, this is the first exposure of the sessions with tim 'cardiacs' smith. tim has refined the bands sound to the point of extreme. tighter. meaner. awesome. you will be walking round wanting to shout out 'they used to call me the poison pen' to innocent passerbys.

beachbuggy - nineteen :
the fall. cant help it. the vocals, the garage beat, jerky guitars, but especially the vocals (always a real trademark of the falls sound) everything just makes me have visions of the proper mark e doing his bad mood thing. doesn't mean its bad. in fact is really good. and from the info i have the band have been given exclusive permission to be released from poptones for this oneoff .. so bravo to wrath for getting such a great track out of them ..
Mark E

--------------------------------------------------------------------------------------------

-SQUIDLY-DIDDLEY DOODLES, ALL RIGHT!
The Scaramanga Six "The Poison Pen" (Wrath)
A right old rock out that's elevated way above the pack by virtue of; A madly stuttering riff, a rabid, drool-dripping vocal scream-fest and what sounds like a dozen squid on ketamine doing hugely illegal things to a farfisa. No, Mother, I don't know many rock bands that'd fancy having to follow them onstage either.
THEME FROM YEOVIL FC
Beachbuggy "Nineteen" (Wrath)
Affected and ineffective ram raid on The Fall back cat', complete with MES-lite disinterested vox-posturing. The riff is nicely ropey, but it's all style over substance, and, remembering how I slated The Darkness demos, I know they'll be pissing on us from a great height come this summer.
Unpeeled. January 2004
------------------------------------------------------------------------------------------------
Sandman Magazine Edition 4 - January 2004
Beachbuggy / The Scaramanga Six
'Nineteen' / 'The Poison Pen' (Wrath)
Doncaster's Beachbuggy offer a song with vocals somewhere between Mark E Smith and Reg Presley, Stooges-esque riffing and mental drumming, that demands crazy dancing. It's almost precisely 2 minutes long and it's excellent.
And on the other side? Raaaaarrr! The Scaramangas' latest offering (and the first track to emerge from their imminent, Tim-Smith-from-The-Cardiacs-produced LP) is gloriously unhinged, louder and dirtier than previous Six waxings, and all the better for it. An adrenalised rollercoaster ride through the guts of a pair of gleefully deranged gentlemen from the West Country that compels you to turn it up…and up….and up… This is great British rock music at its best.
Mark Sturdy.