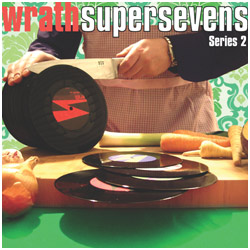 WRATH SUPERSEVENS 7'' SINGLES CLUB 2005
Various Artists
6 X 7'' vinyl split single +
Compilation CD Album

The Wrath Supersevens 7'' singles club 2005. The second series featuring a
plethora of new music from the Wrath records roster as well as lots of exclusive
tracks from special guests - all on lovely matching 7'' vinyl. Six records in
total featuring:

Super Seven #7 - WRATH28
BEING 747 - DIY Prescriptions/THE LODGER - Getting Special

Super Seven #8 - WRATH29
STUFFY/THE FUSES - Sir Wants Sex/THE SECRET HAIRDRESSER - Copier

Super Seven #9 - WRATH30
PISKIE SITS - Props/THE OLD HOUSE - Relationships Hooray

Super Seven #10 - WRATH31
CHAMPION KICKBOXER - Thinking/THE INTERIORS - She\'s In Japan/CHUCK - Kill
\'Em All

Super Seven #11 - WRATH33
THE SCARAMANGA SIX - I wear my heart on my sleeve/ME AGAINST THEM - Bad
judgement

Super Seven #12 - WRATH34
THE PLAYMATES - Damn good/INSTANT SPECIES - Hombrecide/FARMING INCIDENT - The
terrorist.../THE TERMINALS - Screw me up

All this and a CD compilation of all tracks at the end of the year (for you
vinyl purists who don't want to wear out your records).