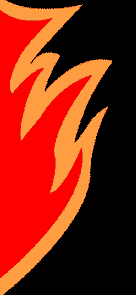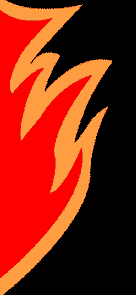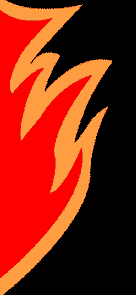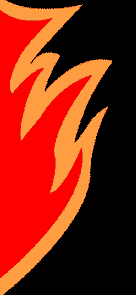 Claiming to hail from France, les Flames! made a home for themselves in Leeds in May 2002 and within mere weeks, the self-styled Frenchcore 6-piece had inked a deal with influential Manchester indie Valentine Records.
Released as a split 7" with The Scaramanga Six in August 2003, the now long sold out 'Wrong' vomited forth gushing praise from the press to match the rave reviews of their unique live shows and proved an instant at Rough Trade in London.
By November, with excited reviews cropping up around the country, NME piled in calling it: "a Hives-topping blast of shouty, anthemic garage rock with some naughty swear words in the chorus, which is fantastic, obviously". An invitation to play at an NME 'ON' night with Burning Brides duly followed, but not before the band had trouped round the country to gig with the likes of The Soledad Brothers, Mclusky, The Parkinsons and The Eighties Matchbox B-Line Disaster.
The band's uncompromising attitude found a home with Wrath Records in January 2003. Their first single proper, 'Mutley 1 From Essex / Professional Stalker' again on 7" vinyl, was released in late May 2003. Wasting no time, another single was released on Wrath's Super Sevens singles club in June 2003. Again a split-single, this time with Little Japanese Toy (Shifty Disco / Sickroom), combined the 2 bands live favourites - les Flames! 'Commitment To Excellence' with LJT's 'Finger Mouse.'
After lots of relentless gigging including an infamous return journey up the M1, Les Flames! finally split in several different directions in 2004. You can now see ex-Les Flames! people in Forward Russia, The Playmates, Whores whores whores, The Ivories and Farming Incident. Blimey! They came, they saw, they pranced around naked then they fucked off!

Jan 2005

Commitment to excellence
7'' Vinyl split single
WRATH10

May 2003

Mutley, 1 from essex / Professional Stalker
7'' Vinyl
WRATH08




4. Lover Number 1